Recently I read a book that may have changed my life forever- The Eat Clean Diet by Tosca Reno. Please don't be deceived by the title- this is not a fad diet (I would never endorse one of those), this is about changing the way you eat and maintaining it for the rest of your life. In the book was nothing that I didn't already know deep down, but for some reason the information finally clicked for me and I wanted to put it into action.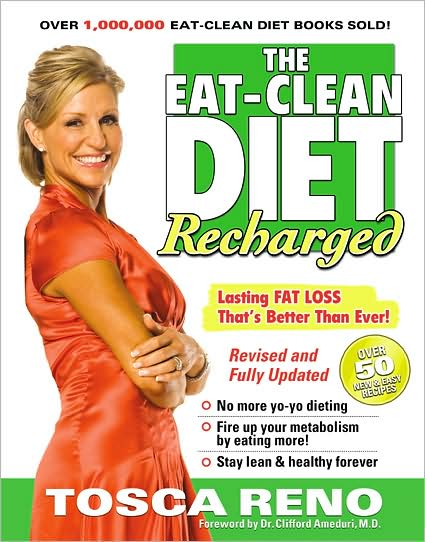 I decided that I had been kidding myself into thinking that I was a healthy eater. I gave up most fast food when I was still in my twenties. I rarely drank sodas, I avoided obviously "bad" foods like hot dogs and fried chicken- but after reading this book I realized that just because I eliminated certain foods from my diet, it didn't mean that what I was eating was necessarily healthy.
Before I go any further I want to confess: I cannot claim to have fully embraced all of the recommendations that the author makes, but can say that I have made major changes- and will continue to make changes as time goes on.
A few of the main points that Tosca Reno makes in the book that I have taken to heart:
1. What you eat affects your physique much more than exercise does. This was a hard pill for me to swallow. For a while there I was running upwards of 30 miles per week and just couldn't understand why my clothes kept fitting tighter and the scale continued to inch up. Now that I think about it, eating from the fabulous taco shops we have here in Southern California way too often were counteracting any miles I was racking up on the treadmill!
2. For many, many reasons, sugar is bad for you. And what's worse, it's in a lot more foods than you probably realize! I have become an aggressive label reader- if I see that something has any type of sugar, whether its high fructose corn syrup, natural sugar or even honey- I look for an alternative that doesn't have it. What I am finding is that most processed foods of any kind contain sugar- and all sorts of other ingredients that I do not want in mine or my children's bodies. You can avoid sugar, and all the other "junk", by eating food in it's most natural state- avoiding anything that has been processed.
3. Eat the right kinds of foods, more often. This one was really easy for me since I have always been a snacker. I am now in the habit of packing healthy snacks whenever I leave the house ( not just for the kids anymore!), and making sure I am eating a combination of protein and complex carbs every 2-3 hours. This keeps the metabolism moving, and also prevents overeating if I let myself get too hungry.
So, those are just a few of the basics from the book. The other thing I have been doing, which is more of a mental exercise, is asking myself these questions before I eat: " What will this food do for my body? Will it provide me with the lasting energy I need to keep up with two preschoolers? Will it help me build the muscle I need run my first marathon? Am I going to feel good after I eat it?" If the answer to any of those questions is "no", then I have to decide how badly I really want it, and why? If it's a special occasion I certainly won't deprive myself. But, let's face it- most of the time when I get a craving for a cupcake or ice cream there is no occasion at all. And if I still choose to have it, at least I made an informed choice on what I am putting in my body, rather than just mindlessly eating food that has little or no nutritional value.
I started on the journey to eating clean just a few months ago, and I have already noticed significant changes in my body from the adjustments I have made. Although losing weight was not a goal of mine when I started this process, I have gotten leaner and the scale no longer fluctuates the 5 or so pounds that it used to. I firmly believe that by eating clean I will be able to maintain my ideal weight for the rest of my life and also be healthier and happier because of it. Eating clean is not about depriving yourself- it is about putting into your body what it needs to stay strong, fit and healthy for a lifetime.